If you are a foodie planning to gorge on some amazing dishes in London, you are in luck! This 21st-century city with its stunning mix of tradition and contemporary will wow you with many top restaurants, where you can sample a wide variety of cuisines that are totally worth your money! So, book cheap Mumbai to London flights on Yatra and reserve more of your budget for delicious seafood, gorgeous steaks, exotic veggies, scrumptious breads and mind-blowing sauces and seasonings. Here are the restaurants you should not miss.
Caravan at Granary Square   
Best for a memorable brunch, Caravan requires you to arrive before the crowd to get a good place. Its spacious and industrial chic dining hall will impress you for sure, even before you taste the food. You should order the Jalapeno Cornbread with Chipotle Butter, Fried Crab with Kimchi Slaw and Kale and Sausage Flatbread. Don't forget to relish their coffee or maybe Hendricks with an orange tonic, which is house special.
Clove Club at Shoreditch Town Hall
Fine dining reaches a new high at Clove Club, and if you are up for some great British or Irish dishes, this one is for you. Visit in the evening to indulge in a nine-course meal that includes Orkney Scallops obtained through hand-diving. You will also get to taste Barbary Duck which is dry-aged at the restaurant for 21 days. Steamed buns are usually used to serve Haggis here, and radishes come with gochujang mayo. Check out the front bar with its glimmering bottles and candles and make sure you taste chicken fried in buttermilk.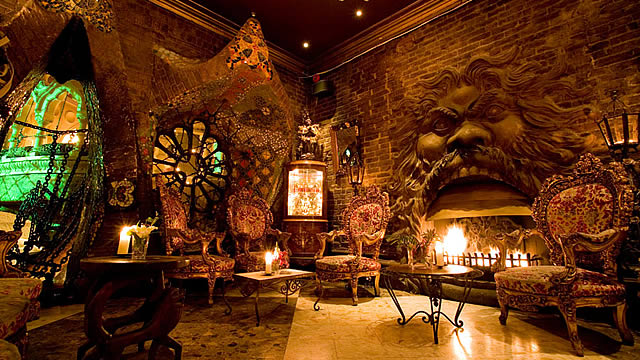 The Magazine by Hyde Park's Serpentine Sackler Gallery
Zaha Hadid, the Pritzker Prize-winning architect designed this restaurant with a marvellous white canopy roof and lavish floor-to-ceiling glass windows. If you are looking for an amazing place to enjoy breakfast, luncheon or high tea, this is the place to be! Foodies who frequent the restaurant suggest you try the French Toast with Wild Mushroom and Cheddar, Scottish Salmon Steak with Soy, Ginger and Mizuna Dressing, Crushed Avocado with Feta and Middle Eastern Herb Sumac. Or you can opt for a weekend brunch with cocktails that has a three-course menu.
The River Café at Thames Wharf
Digging into exotic food at an open terrace with the Thames flowing right beside you is a pleasure that The River Café promises. The restaurant is extremely fashionable with a glass front and was designed by Richard Rogers, from an oil storage facility! The café is famous for its hearty Italian cuisine prepared in a neo-rustic style with only the best seasonal produce. The wine list is all Italian and the service is sophisticated. Try out dishes like Wood-Roasted Veal Chop with Salsa Verde, Fresh Nettle Pasta with Parmesan and Butter, Panna Cotta with Raspberries and Grappa, and Slow Cooked Peas with Rocket.
Chiltern Firehouse on Chiltern Street 
Constructed on the premise of a Victorian firehouse, this one is a combination of a hotel, bar, and a restaurant. Famous for being both classy and cool, Chiltern Firehouse will impress you with half-moon banquettes in red and wicker chairs. The Michelin-starred executive chef Nuno Mendes from Portugal is another reason behind its fame. Reserve in advance and taste some Austrian whites among wines. When it comes to food, taste the Iberico Pork Chop with Shiso, Courgette and Yeast, the Maple-Glazed Salmon with Pickled Pumpkin, and Mini Doughnuts filled with Crab Meat.
All you have to do is book cheap Mumbai to London flights and gear up for a delicious experience ahead!